5 Things Prospective Homeowners Need To Know About Buying A Home This Spring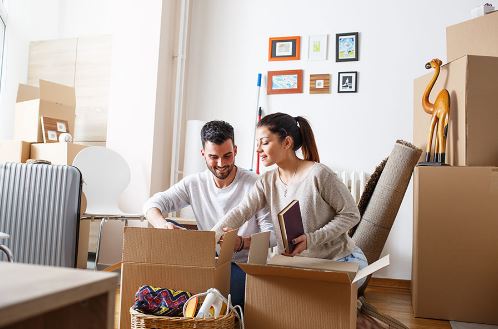 Spring is traditionally the busiest season for real estate sales, but this year, buying season began in January. Inventory is selling fast — at record rates, according to the February 2018 RE/MAX National Housing Report — which also means a shortage in housing, especially for first-time buyers. The economy is stable and employment rates are low, which means spring 2018 will be an active one in the housing market.
Javier Vivas, director of economic research at realtor.com, spoke to Forbes about the 2018 real estate outlook and said we're facing the lowest level in housing industry in at least 20 years. It's a seller's market for homes in the $100,000 to $350,000 range — what realtor.com defines as entry-level to mid-tier homes. And the numbers comparing January 2018 to January 2017 tell the same story. The median listing price is up eight percent, from last year, while inventory is down eight percent.
If you're looking for a new home this spring, here's what you need to know about the state of the housing market and how you can increase your opportunities to find a home during this hot market.
Historically low inventory. At least for home is the low-to-mid range. If you're looking for a luxury home, there are more available, which means the time is right to find a good deal on a trade-up home. According to the fall 2017 RE/MAX National Housing Report, housing inventory was down 13.4 percent in October 2017 compared to the same time the previous year. The same report also found only three of the 53 metropolitan areas in the country reported a buyer's market, or had a balance. What does this mean for you? Be prepared to look longer and harder to find a home, particularly if you're a first-time buyer looking for a starter home.
Fast sales. According to Forbes, the average home is on the market 89 days, down seven percent from last year. The RE/MAX National Housing Report shows homes sold in an average of just 60 days in January, the fewest days on the market in at least nine years. If you find a home you like that fits within your price range, act quickly. Don't wait around hoping for the price to come down, or you'll likely miss out. Want to be sure your offer is accepted over others? Be willing to offer above asking price and be flexible with seller's requests.
Prices are up. Be prepared to spend a little more this year. Nearly every market in the country has recovered from the 2008 housing market crash, the economy has stabilized and unemployment rates are low. As a result, we're seeing higher home prices. The median sales price of homes in January hit $224,000, another record, and 51 of 53 metropolitan markets posted gains for the 22nd consecutive month of year-over-year price increases, according to the RE/MAX report.
Interest rates are on the rise. Mortgage rates tend to follow the 10-year Treasury and has been on the rise in the last several weeks. According to bankrate.com, the average interest rate was 4.57 percent at the beginning of March, up from 4.15 percent in December. Interest on a 30-year-fixed-rate mortgage has been on the rise over the past several months, and is expected to continue rising. To secure the best rate on your mortgage, contact a home loan expert from PrimeLending to find out all your options and lock in a great rate.
Prequalification1 is essential. Due to low inventory, many sellers are receiving multiple offers on their homes. Do not consider making an offer on a home if you haven't been prequalified, or you're more likely to be passed over for another buyer. Get prequalified for a home mortgage loan to help you know how much you can afford, but be sure you don't stretch yourself financially. Just because you are approved for a $350,000 home, take a serious look at your income and determine your max dollar from there. Plan to dedicate at least one-third of your monthly income to mortgage payments.
If you're looking to buy this spring, this outlook may seem grim, but don't give up. Knowing what you're up against can help reduce frustration in your search for a new home. Have a plan. Be prepared. Set your budget. Prep your finances. Get prequalified. And go!
To get prequalified for a home mortgage, contact PrimeLending at the McMullen Group today to connect with a home loan expert in your area.
PrimeLending
Comments (0)
|
Trackbacks (0)
|
Permalink
|
|