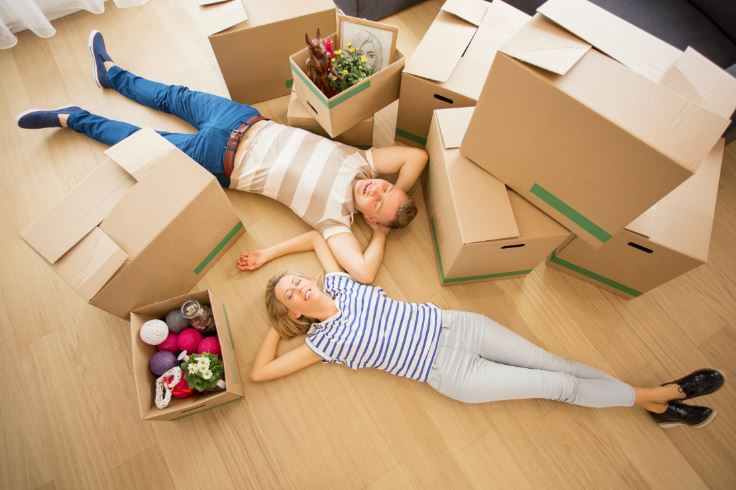 Renting an apartment has its perks. You're not responsible for maintenance and upkeep and you may have access to amenities like a swimming pool and/or fitness center. And while the apartment life is right for some people, it's not necessarily the best long-term solution for everyone.
If you are an apartment dweller, but wondering if it might be time to move on to homeownership, here are 9 signs you're ready to take the leap.
You're Too Close for Comfort — If you're tired of hearing your neighbors through the wall, or feel like they're encroaching on your personal space, it may be time for a single-family home with a little space between you and the neighbors. When you buy a home, you get to choose just how close it is to the next-door neighbors — whether that's 50 feet or 500 (or more)!
You're Running Out of Room — Apartments are nice for singles, and even married couples with no kids, but by the time you start adding little ones to the family, the walls of your apartment may feel like they're beginning to close in on you. If you're planning on adding to the family, or even if you'd like to have space for out-of-town guests to stay (other than on the couch), purchasing a home can give you the space you need.
Things Are Breaking and Not Getting Fixed — If your kitchen sink backs up, or you've got an infestation of insects, the best you can do is contact your landlord and ask for help. But if you're not getting a response, and things are beginning to fall apart in your apartment, with no help from your landlord, it's time to get out from under that lease. While the responsibility falls on your shoulders when you own a home, that's not necessarily a bad thing. You call the shots. So if you need to call in pest control, the plumber or repairman, you can, and you can schedule those repair at a time that works best for you.
You're Tired of Building Equity For Your Landlord Every Month — Sure, renting may be easier and even cheaper in some aspects, as you're not responsible for routine home maintenance and when something expensive goes out, like the AC, you're not on the hook for the repairs. But when you rent, all that money you pay month after month, year after year, doesn't get you anything except a place to stay for another month, and you'll never see that cash again. When you buy a house, with each house payment, you'll gradually build equity — money you could see again if you choose to sell down the road. By making a monthly home mortgage payment, you're actually building your wealth, little by little.
Rent is On the Rise — You may have secured a great deal at the time you first signed your lease, but as every renter knows, when it comes to rent charges, nothing ever stays the same. Apartment complexes and even private landlords have the option to raise the rent based on market rates, or even their own whim, if they so desire. If you're tired of the uncertainty, it's time to buy a home and lock in an interest rate so you'll know just how much you need to budget for housing from one month to the next.
You Could Use a Tax Break — Did you know homeowners qualify for certain tax perks? If you're a first-time homebuyer, there may be a tax credit available, but every homeowner with a mortgage loan under $1 million is able to deduct any interest paid from their taxes. In the first few years, the majority of your monthly mortgage payment goes toward interest, so you'll see a higher tax break in the beginning, when you're trying to get your feet under you as a homeowner. If you purchase mortgage discount points when you close on your home, that money is also tax deductible.
You're Ready to Invest in Personalizing Your Space — Feeling inspired from all the Fixer Upper you've been watching and ready to take on a decoration or renovation project of your own? Put the brakes on it if you're living in a rental; your landlord will probably want to approve any changes first, even down to paint color. If you own your home, you have the freedom to make it what you want and let your personality shine through.
You Dream of Green Space — Just think how nice it would be to open the back door and tell the kids — or dogs — to go play outside. When you live in apartment, any outdoor space you've got access too is community property. But if you live in a home, you'll likely have a yard and own your own little piece of earth. Put in a pool, build a garden, create an outdoor living space — however you want to use it, the choice is all yours.
You're Planning for the Future — Buying a home is like making an investment in your future. Sure, you still have to make your monthly payments, but the more equity you build, the more financial freedom you have to purchase another home, buy investment properties, or put away for retirement. Owning a home gives you a measure of security for your future, something you can't put a price tag on.
If you're looking for a place to call your own and you're ready to claim your part of the American Dream, contact PrimeLending at the McMullen Group today to speak with a mortgage expert in your area. Our experienced mortgage lenders will help you secure a mortgage loan to buy your dream home.
primelending.com
Comments (0)
|
Trackbacks (0)
|
Permalink
|
|