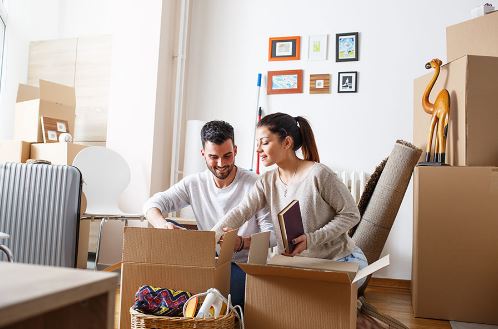 Moving is a lot of work – there's no doubt about it. But it can also give you a wide range of rewards, from lowering costs, to gaining space, to giving you the features you value most. If you're considering a move into a new space, there are many factors to consider including budget and location. But how do you know if relocation is the best option for you? If you've been thinking about moving and just haven't taken the first step, here are 12 signs it's time for you to start a new house search.
Growing Family
If your home isn't big enough to accommodate your growing brood, upgrading to a home with more bedrooms or square feet is logical. In addition to enough bedrooms, consider a new home with multiple living spaces that will allow you to spread out. If you feel like the walls are closing in on you, look for a home with an open floor plan — a smaller house that is open can feel as big as a home with more square footage.
Empty Nest
Much like a growing family, if your kids have moved out, why pay for all that extra space if you don't need it? Take advantage of the market and trade in your family-sized home for something a bit smaller, perhaps with the upgraded features you always wanted but couldn't afford during your child-rearing years.
Hot Market
It's a seller's market (for now), so if you're looking to get more out of your house, particularly if you've made improvements to increase the value of your home, now's the time to sell. Buyers can still win big, even in a seller's market. According to U.S. News & World Report, buyers can get the right home for the right price if they are smart and ready to move quickly. That means getting prequalified, doing your research and finding a good agent.
No More Storage Space
If you've reorganized, cleaned out clutter, sold or donated clothes and household items you no longer use and still don't have enough storage space, it may be a sign it's time to look for a home with more storage options. But before you decide the storage options in your current home aren't enough, be sure to check out these clever storage and organization tips from RealSimple.com. (Pinterest is also a great source for creative storage solutions!)
Return on Investment
Does your home need upgrades and improvements to turn into your dream home? Financial guru Dave Ramsey suggests that some of the best home improvements for return on investment include: a family room or bedroom addition, kitchen remodel and bathroom remodel. Smaller projects such as painting your front door, replacing hardware and light fixtures and updating dingy carpet can also help. But not all home renovations will add value to your home, so consider the finances before you start construction. It may be a better deal for you to sell your home without dropping the cash on major improvements and put the money toward a down payment on your dream home.
Cost Savings
If the struggle to pay your utility bills, home repair bills and a hefty mortgage keep you up at night, moving to a less expensive home in a more affordable community may be the answer to your sleepless nights. In every growing metropolis, there are outlying towns and cities rapidly building new homes with a budget-friendly price tag. If you're truly looking to save money, be sure to take a look at property taxes in your potential new neighborhood as these can vary from city to city, and even a tiny difference can add a significant amount to your monthly mortgage.
Money Pit
Is it costing you more to maintain your home than it's worth? It may be more affordable for you to make a move than to continue pouring your hard-earned cash into a money pit. If that's the case, market your home as a great "investment property" and list to sell as-is.
Declining Neighborhood
A spike in crime or more police activity in your current neighborhood can be a clear indicator it's time to pack the moving truck and head out. If you sense your neighborhood moving in the wrong direction, don't wait to make a move, or you may also see the value of your home take a dive.
Out of Place
Over time, neighborhoods grow and change. If you're feeling out of place where you live now, maybe it's time for a move. Living in the city can have its perks, but perhaps you're ready for a slower pace in a quieter neighborhood. On the flip side, if you live in the 'burbs but are making the drive into the city frequently, there may not be much in the way of cost savings for you to continue living in suburbia.
Crazy Commute
Are you driving an hour or more to and from work each day? Take some time to weigh your options. Cutting your commute could save you big bucks in the way of gas and tolls and it could also mean more family time. There's a point when it just doesn't make sense to continue driving so far to work if living closer is a possibility.
Life Changes
Marriage, kids, aging parents — changes in the stages of life may require a move to a new home that's more suitable for the season you're in. If you're getting serious in a relationship or are the primary caretaker for aging loved ones, combining households can save you time, stress and money.
A Fresh Start
Sometimes the best thing is simply a fresh start. If you're coming out of a difficult period in your life, starting over may be just what your heart needs. If it makes sense financially, there's no better time than the present to hit the reset button and start anew.
If it's time for you to make a move, take the first step and contact a PrimeLending home loan expert at The McMullen Group to get prequalified for a home loan.
primelending.com
Comments (0)
|
Trackbacks (0)
|
Permalink
|
|