Discover A Loan That Will Help Create The Home You've Always Wanted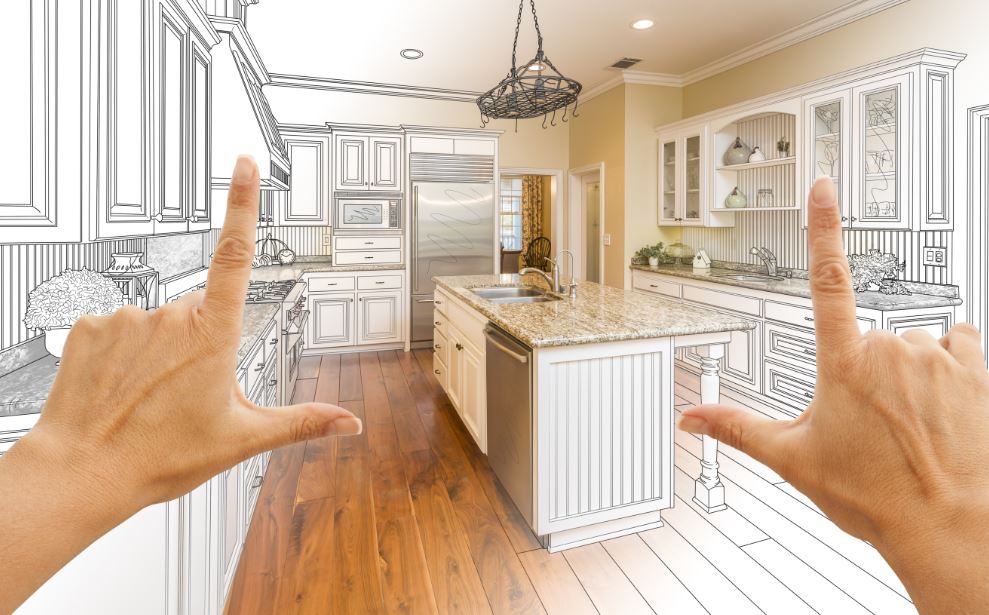 Whether you want to consolidate your debt, lower your interest rates or create your dream home, if you're a homeowner, you have plenty of home loan options.
But you may be wondering, "Which loan should I choose?"
The simple answer is: It depends.
You have a variety of loans to choose from, and the "right" one is highly dependent on your situation and what your homeownership needs are. With that in mind, let's go over the difference between refinancing and renovation loans, and which will help you reach your homeownership goals.
Refinancing
Are you interested in paying off your mortgage as soon as possible? Want to lower your interest rates? Need money for unplanned expenses? If the answer is YES to any of these, then refinancing could be the solution you're looking for. Refinancing may sound like a scary word, but it's essentially the process of replacing your old loan with a newer one.
By doing this, you're able to reap benefits such as:
Lower monthly payments so you can save toward other expenses
A shorter home loan term to help you pay off your mortgage even sooner
Converting your home's equity into much-needed cash to use however you like (including home repairs or renovations)
How do you know if refinancing is the best option for you?
To find out if you're ready to take the next steps toward refinancing your home, check to see if your home meets any of the following conditions:
You've got a newer mortgage
Your home's value has increased
You qualify for lower interest rates
If your home does meet one of these conditions, you're in a great position to take advantage of your refinancing options. Overall, refinancing has some major benefits, but it's important to understand the realities of refinancing. Keep in mind that whether you are refinancing to pay lower interest rates or to make lower monthly payments, you are still hitting the reset button and starting a brand-new loan.
Want to see how much you could save by refinancing your current home loan? Check out our handy Refinance Calculator to get a quick savings estimate and find out if it's a good idea to refinance.
Renovation Loans
As you've probably noticed, home renovations have become quite popular in the past few years. In fact, there are countless reality TV shows completely devoted to showing you how to transform a home into an elegant dwelling fit for royalty. But even if you're not trying to turn your house into a country-chic masterpiece, a home renovation can still help you create your ideal living space.
Here are a few key reasons you should consider a home renovation:
You have some minor/major damage that needs to be repaired. Has your area recently experienced some inclement weather that has caused damage to your home? Need to replace old plumbing or electrical systems within your home? A home renovation loan can help you with both small and large repair projects.
You want to redesign your kitchen/bathroom (etc.). Are you eager to install that timeless and functional farmhouse sink in your kitchen? Dreaming about taking a relaxing soak in your very own luxurious tub? You can design the kitchen or bathroom you've always wanted with the help of a home renovation loan.
You'd like to add additional rooms/floors to your home. Are you planning on starting (or growing) your family? Need some extra space to build your very own home office? With a home renovation loan, remodeling and expanding your home has never been easier.
As you can see, a home renovation loan can help you achieve a great deal of your homeownership goals. If you happen to love the home you're in, or you're firmly planted in the perfect neighborhood, remodeling your home can give you the opportunity to stay in your current home while being a far less expensive alternative to purchasing a new home.
Final Thoughts
Whether you're interested in lowering your monthly payments, or you're looking to create the home of your dreams, you've got options. PrimeLending's remodeling loans are a type of refinancing loan that can be rolled into the cost of a new mortgage. This type of loan is a great option because you can make necessary home repairs and upgrades while still only paying on a single mortgage payment.
On the other hand, a home renovation loan can help you repair, remodel and enhance your home just the way you've always envisioned it. The option you should choose depends on what your specific goals are and PrimeLending is here to help you sort out which solution will benefit you the most. Ready to take the next step toward achieving your homeownership goals? Contact a McMullen Group loan expert today to discover which option is right for you.
primelending.com
Comments (0)
|
Trackbacks (0)
|
Permalink
|
|