8 Things To Consider Before Committing To A Kitchen Renovation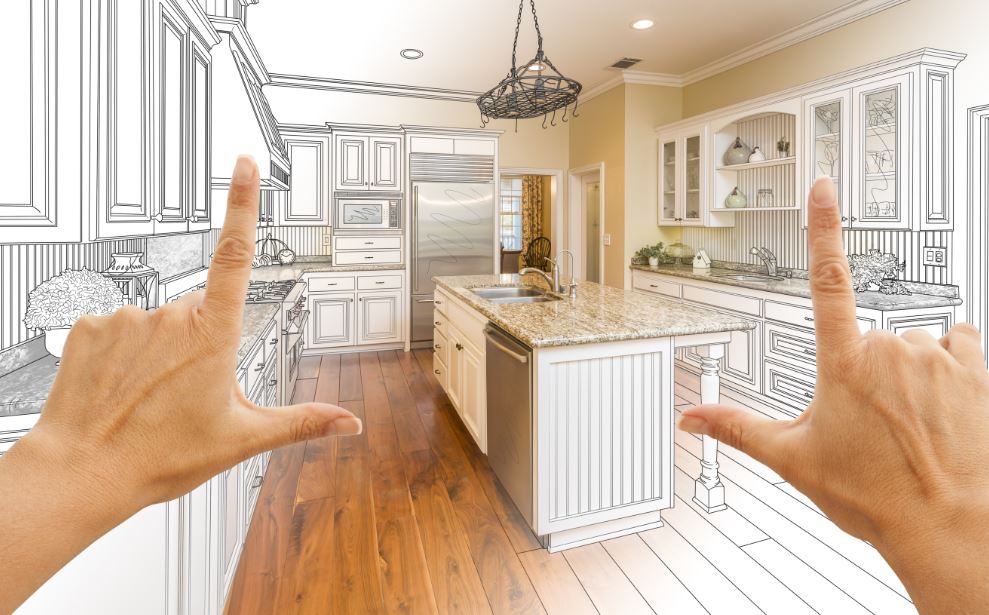 The kitchen is the heart of your home. It's where you prepare meals and gather with loved ones. It's the entertainment hub. It may be the spot where you sit to sip your morning coffee or where you kiss your kids goodbye before sending them off to the bus for school.
The kitchen is often the number one selling point of a home and if your kitchen is a little outdated, a kitchen makeover could boost your home's resale value. Kitchen remodels are also often more complicated than remodels on other parts of a home — and more costly. According to HomeAdvisor, the average kitchen remodel costs homeowners more than $22,000. For a smaller project, such as painting walls, refacing cabinets and upgrading the sink, you may spend between $5,000 and $10,000. But a renovation that involves installing custom cabinets, new countertops, new floors, and high-end appliances, the cost will settle out upwards of $30,000.
Before you dive into the time and expense of a kitchen remodel, here are some important things to consider.
How to Know It's Time for a Kitchen Remodel
Are you considering selling in the near future? As the most valuable room in your home, remodeling your kitchen is generally a worthwhile investment if you're considering selling. A newly updated kitchen is sure to catch a buyer's eye, even if you aren't able to update other parts of the home, such as bathrooms.
How much storage do you have? Lack of storage in a kitchen can be a problem, especially for potential buyers. But whether or not you're planning to sell in the future, be sure your kitchen remodel design makes room for your dishes, food storage containers, spices, pantry items and small appliances and kitchen gadgets. If storage space is an issue now, it's time to consider a remodel that provides more space for storage so you can clear your counters of clutter.
Are your appliances outdated? One outdated appliance doesn't necessarily warrant a kitchen overhaul. But, if your large appliances, such as fridge, stove, oven and dishwasher are out of date or not functioning properly, at the very least, updating appliances is a wise investment.
Questions to Ask Before Getting Started
What is the central purpose of your kitchen? Are you a big entertainer, often hosting parties and gatherings? If so, consider a kitchen design with plenty of counter space, a large refrigerator and double ovens. Other kitchen features such as custom cabinets and granite countertops are also important for entertainers. If you consider yourself a chef, you may lean toward a remodel that provides plenty of space for kitchen gadgets.
How much can you afford to spend on a kitchen makeover? Your budget will largely determine the scope of your kitchen reno. If you're hoping to spend the low end of the national average ($4,000 according to HomeAdvisor), consider your bottom line and must haves. What absolutely needs to be fixed or replaced? If you are going for an updated look without the budget for a total overhaul, painting your kitchen cabinets (light colors like white and gray are in), changing out the hardware and replacing your sink — or even just the faucet — can go a long way in changing the look of your kitchen. If you have more to spend, there's more room in the budget for needs and wants.
Should you hire a remodeling or renovation contractor? When you're ready to start your project, there are some important steps to take to ensure you hire a contractor who will meet your standards and complete the work correctly. Be sure to check every contractor's credentials. Research online to find contractors in your area with positive ratings. Ask friends, family and trustworthy neighbors for recommendations. We suggest you take such measures as asking if they're licensed and to see their work and referrals to ensure the quality of work they will do in your home.
When is the best time for a remodel? Your kitchen renovation project will likely take anywhere between six and 12 weeks to complete. Consider this when deciding when to take on the project. If you're a regular host for holiday parties and entertainment, opt for a remodel during the first part of the year, after the holiday season ends, or early summer at the latest. Depending on the scope of your project, you may not be able to use your kitchen during the renovation, so be sure you have a backup plan for cooking meals — a microwave, hot plate, slow cooker and toaster oven that you can set up in another part of your home, such as your dining room table, will come in handy.
Whether you're opting for a simple, cost-effective kitchen update, or going for a total overhaul, be prepared for the project to take some time. But living with dust, disorganization and chaos will all be worth it in the end when you are able to move back into your beautiful, updated kitchen.
Are you planning a kitchen renovation soon? Prime Lending and the McMullen Group can give you a hand with a home renovation loan that fits your needs. Give us a call today to speak with a Loan Officer in your area to learn about your options.
blog.primelending.com